Aquinas Blugolds
Class Of 1971
Congratulations Dick!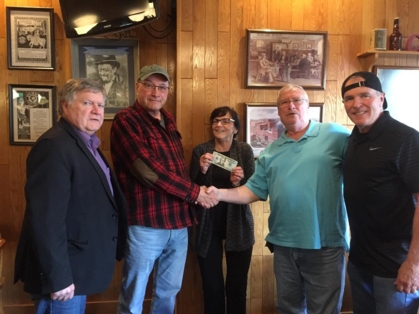 Dick receives his mega prize money from Rose.
Security was tight (Lt. Dan Marcou) and the drawing was "above board", as certified by our resident legal expert (Ron Fitzpatrick, Esq). Everyone in attendance was anticipating the first round, on Dick.
However, Dick graciously donated his winnings to the reunion account. Others present, quickly followed suit and donated likewise.
The next meeting is August 14, 2019 at Earl's Grocery & Saloon, 401 3rd Street South, La Crosse at 5:30 p.m. All are welcome to attend.
Paul
Get your Aquinas apparel.
Visit the Class Store.
Did you know you can put other graphics on your purchases? How about your family name? It's OK as long as it is not a licensed logo/graphic.
Reunion committee members.
Joe Kotnour email: joanko34@aol.com
Rose Servais (Tydrich) email: rosetydrich@gmail.com
Paul Pierce email: Munchkinusnavy@yahoo.com
Anita Pahl (Young) email: enayoung@centurylink.net
Fred Funk email: fritz@funk.io
Julie Deflorian (Keitel) email: jd.keitel@gmail.com
Mary Sauer (Paul) email: mary@scedispatch.com


Tim Carrol